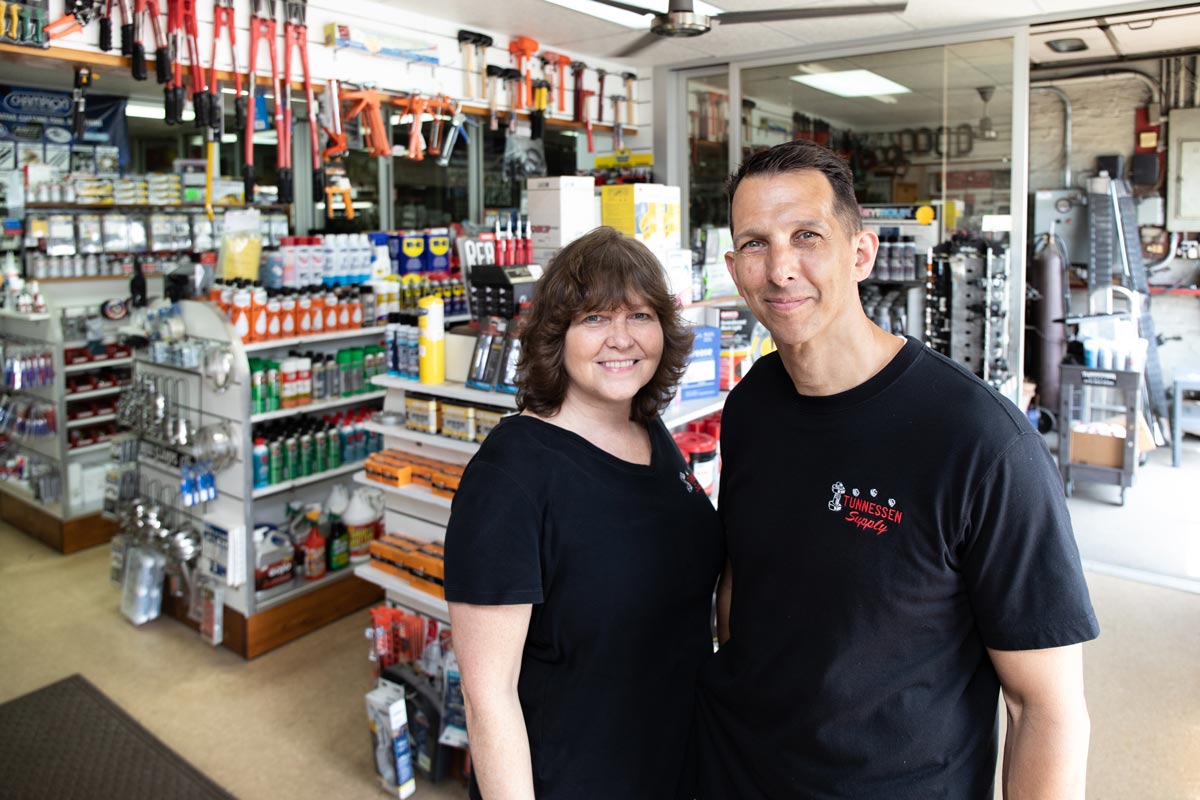 Welcome!
Tunnessen Supply was created by Sandy Tunnessen. Her field of work and expertise in the industrial supply world gave her the ability to start her own business along with her husband Bill.
Since the inception of Tunnessen Supply, we have continued to add many lines of items for our customers. We consider our company a service design company, in which we sell what the customer needs.
Please look over our site and see some of the items we carry. If you do not see what you are looking for, please let us know. I'm sure we can make it available.
Tunnessen Supply has been meeting the industrial supply needs of businesses throughout Hazleton, Mountain Top, Wilkes-Barre, Bloomsburg, Berwick, White Haven, Tamaqua, Pottsville, and more.
– Bill and Sandy Tunnessen
Tunnessen Industrial Supply is Greater Hazleton's trusted source for industrial supplies and safety products.
Industrial Parks Served
We provide industrial parts, equipment, and supplies to businesses throughout the region including those in Humboldt Industrial Park, Valmont Industrial Park, McAdoo Industrial Park, the CAN DO Corporate Center, CenterPoint Commerce and Trade Park (East, South, West), Corporate Center at East Mountain, Crestwood Industrial Park, Duryea KOZ, Hanover Crossings, Hanover Industrial Estates, South Valley, Deer Lake Industrial Park, Frackville Industrial Park, HighRidge Business Park, Pine Grove Industrial Park, and Saint Clair Business Park.
Industrial Product Lines
We offer a very complete line of industrial products, including abrasives, cleaning supplies, drill bits, cutting tools, fasteners, hand and power tools, lubricants, safety products, saw blades, spray paint, and more.
Last Minute?
Talk to our customers and you'll find the Tunnessen Team plays a vital role in going the extra mile by fulfilling those last-minute requests. 
Large & Small
Whether your business is large or small, we can help you. From mom and pop shops to the largest industrial plants and factories, we have experience in helping everyone get work done!
Did you know we also sell directly to the public? Feel free to stop in and ask our helpful team anything. Odds are pretty good that we carry, or can find, what you are looking for.
We're here to help. Contact us!